Opinion Leader in the Gift Market
A trade magazine "Monthly Gift PREMIUM" has been published by Business Guide-Sha, Inc. since 1971 and covering any information related to gift market: giftware including seasonal one, stationery, fashion, design, beauty goods, premium as sales promotion and beyond.
Distributors and shop managers as the targeted readers, Monthly Gift PREMIUM delivers the latest news on domestic/international gift business and consumers' lifestyle, as well as market research and data analytics.

JPY 1,000 per issue
Circulation of 20,000
A4 size (280×210mm)
100-120 pages
Available only in Japanese
Issued on the 1st of each month
◆Creating Business Matching Opportunity
By linking to trade shows organized by the publisher, Business Guide-Sha, Inc., the magazine brings together exhibitors information etc. and plays an important role as a promotional tool to connect suppliers with buyers. The trade shows are including the Tokyo/Osaka/Fukuoka/Shanghai International Gift Show, the Tokyo International Premium Incentive Show and the Gourmet & DiningStyle Show and so on.
◆Readership Breakdown by Business Sector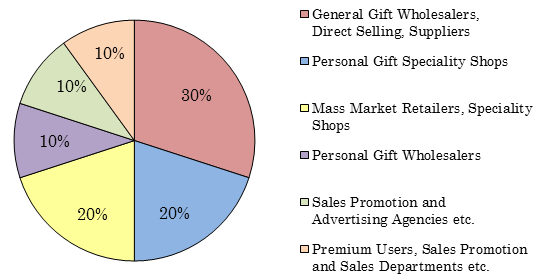 ◆Subscription
Digital edition is recommended for overseas readers.
To subscribe Monthly Gift PREMIUM,
Note: the magazine is available only in Japanese
◆Advertising
Monthly Gift PREMIUM is providing key access to gift market in Japan. With 45+ years of publishing experience, it is one of the most valuable B2B platforms for suppliers and manufactures to reach their targeted distributors.

Size and Rate
4C 1/2P (124×182mm): JPY 150,000
4C 1P (280×210mm): JPY 300,000
For further information on magazine and advertising opportunities, please contact Business Guide-Sha, Inc.
Email:
d-haga@giftshow.co.jp
Tel: +81-3-3843-9851/Fax: +81-3-3843-9850