EXHIBITOR
BOOTH PLAN and FEE
BOOTH PLAN and FEE
BOOTH FEE
JPY 451,000 Including Tax / booth
Dimension of one booth

3m × 3m × 2.7m
BOOTH FEE INCLUDES
Three-side panels(Two Panels for Corner Booth)
Fascia board with company signboard
Two folding chairs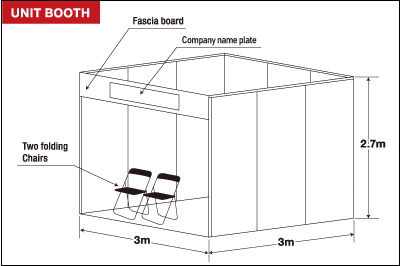 Note

Additional facility required such as furniture, spotlight, etc. must be ordered by filling in the Order Form for optional equipment (Provided by the Organizer upon receipt of booth fee payment).
Corner booth has only two-side panels.
Side panels are just partition of booth and booth.
Installing additional panels cost fee.
The booth fee and dimension shall be subject to change.
Only for Gift Show LIFE x DESIGN, you can choose raw space plan when you apply for over 4 booths. For detail, contact the organizer.
ACTIVE CREATOS, SOZAI (material fair) and GLAMPING have special booth plan. If you are interested in those fairs, please contact the organizer.